Rail Travel in Europe
Access experts in cheap rail travel to Europe. You will find all available routes, ticket and pass options plus information on MotorRail; all in English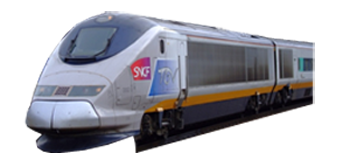 Cheap Rail Travel to Europe
Voyages Sncf UK is the UK's leading specialist in tickets and passes for European rail travel. They are the UK representative of the French National Railways (SNCF) and have helped millions of travellers secure train travel for nearly a century.
So if you are planning a trip to or through Europe by rail. This is the place to get the expert advice that you need to find the best ticket or pass options for your trip.
Rail Travel to Europe
Rail travel to Europe can become quite complicated with all the different countries, train systems, pass and ticket options available. That is why you need to take expert advice on the available options to ensure that you get the best pass or ticket deals available for your desired routes.
Voyages SNCF are specialist in train travel for Europe and all information is in English making it much easier to understand the options available to you. To get the cheapest train fares you need to book in advance, there is a handy guide to getting the best fares on European trains, so make sure you are in the know! Take a look at Voyages SNCF (UK) for different options, especially if you are planning extended travel plans around Europe and don't forget to have a quick read of the relevant ticket and rail pass guides before you make a final decision.
When you go to the website you will arrive on the European routes and rail tickets page where you can fill in a form detailing your requirements so you can search for availability and price. There is also an option to select a rail pass of choice or even to look for a hotel. While you are there don't forget to check out any special deals on offer and you might also find it is beneficial to sign up for the NEWSLETTER so that you get advance notification of all the latest deals and benefits.
Rail travel to France really is a good option and if you want to take your car with you then you should take a look at the Motorail services, to see what routes are available.
Rail travel in Europe is a great way to view the countries you are visiting, it really takes the stress out of the journey. You can sit back, relax enjoy the scenery play games read a book or use the on train facilities while someone else does the driving.
What could be nicer and as an added bonus the trains often take you through countryside and routes you would not otherwise see if you took a different travel option.
Avignon:
Eurostar Direct Avignon Service this service runs from London St Pancras International. Fares start at £121 for a high speed return journey.
Classes and Facilities on Trains
Different operators offer different services for their travel classes and can call the classes by different names as well. For a full breakdown of what the different classes are called by the different operators and what those classes include, go to Voyages-Sncf Class of Travel to check out the differences.
If all else fails and you cannot find the train service you are looking for then there is always the man in seat 61, what he doesn't know about train travel isn't worth knowing.
Find me on Google+