Ski Italy - Folgarida For Great Family Skiing
A great ski resort for families is Folgarida in the Itlalian Alps at the northen end of Italy. Check out the facilties and skiing levels suitable for this Italian Ski Resort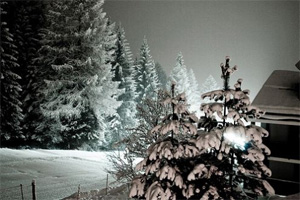 Skiing in Italy
When I went to Folgarida in Italy for a holiday it wasn't actually a family skiing holiday, I went with my wife and a couple of friends. Of the kids, one had decided skiing wasn't for her and why waste money torturing yourself with early morning starts and mindless exercise when you could lie on a beach all day, as for my son the lure of a holiday with his mates was much more appealing than going off with the old fogies. Our other 2 were more grown up and doing their own thing anyway.
It was pretty clear when we arrived in Folgarida that them not coming was probably a good move on their part. Especially when it came to party time and apres ski. There was not a lot going on for youngsters of the teenage ilk, not mine anyway. That said, for us, our friends and people with a young family I think we had found the perfect location and at that stage we had not even set foot on a ski slope.
Hotel Luna
We stayed at the Hotel Luna and arrived just in time to drop the bags and get to the restaurant for our evening meal, my memory of that evening was 'what a fabulous meal' plus some really good wine to go with it. I don't know how you think but normally when I check into a hotel on package ski holidays, I sort of assume we are going to be eating out a few nights to be sure to get a decent meal now and then.
Well Hotel Luna certainly broke that train of thought and continued to do so all week, we did take a taxi to the next town one evening for a change of scenery, Folgarida, be warned, is not very big as ski villages go and there are not a lot of options for different entertainment in the evenings.
The taxi ride was a bit of experience, not for the trip itself but rather the 2nd mortgage we had to take out to pay for it after the 30 minutes or so it took to get to Madonna Di Campiglio another of the ski resorts in Italy that is the next resort to Folgarida. The slopes around it provide an extension to the slopes accessed directly from Folgirada.
Apres Ski
So this is it for the apres ski: –
Go to your hotel bar after skiing at around 5.30p.m. have a couple of drinks and play cards, maybe go to the games room for a while or take a swim
Back to your room for a shower and to get dressed for dinner.
Go to the hotel restaurant for your evening meal around about 8.00p.m enjoy a fabulous meal accompanied by some very nice wine.
Retire to the lounge around 9.30p.m for a coffee and liqueur followed by a quite stroll around the village.
Back to your room for about 11.00p.m for a nightcap on the balcony and a look at the views across the mountains.
Rinse and repeat for the week.
Now for me this was like a fabulous chilled out week, very relaxing, very calm and I still had energy left for skiing the next day. I loved this holiday it really was my idea of heaven. If on the other hand you want to party until 2.00a.m and partake of lively bars apres ski then this is probably not the place for you and my advice would be to look elsewhere.
Although I understand that there is a night club available in the high season which can get a bit hot and crowded, but at the time we went however, near the end of the season, there was no night club available and only one or two bars beyond the hotel we were in, which was fine by me.
Its probably time I talked about the skiing, but before I do I can say the great food thing carried on up on the slopes as well, when we stopped for lunch in any of the cafes, there was choices of all sorts of great Italian food from pastas to pizzas and stuff even the fussiest of children would eat. I really think if you have young kids and a desire for family skiing holidays you are going to struggle to beat this, you could actually spend the whole week of evenings using the hotel facilities and with the games rooms and swimming pool the kids would be fine.
What About the Ski Slopes?
The airport that normally services Folgarida is Verona and it is a bit of a drive being about 2 1/2 hours by coach, but the scenery on route will keep you entertained and it gets exciting as you start to climb up via the mountain roads.
The skiing is exceptional for both beginners and intermediates but if you are at advanced level then you would probably have to spend time off piste. There is plenty of off piste to go at so I wouldn't rule out advanced levels completely, you just need to be aware that off piste means no insurance cover usually. Check out the piste map for Folgarida and their web cam.
The Lift System
The lift system is excellent, very modern with lots of chairs and very few drag lifts for such a small resort, bearing in mind that the whole area includes Madonna Di Campiglio and Marilleva which actually means there is quite a large skiing area of pistes available.Hence the reason the lift systems could hold it's own in the States or Canada.
Marilleva as ski resorts go is probably the least attractive of the three and you get the feeling it is convenient for the skiing with not much else to say about it.
The Scenery and The Runs
As for the scenery, pretty much all the runs we used were absolutely gorgeous, tree lined blues and reds in the Brenta Dolomites region of the Alps, I know everywhere you go skiing is pretty gorgeous the sport lends itself to that sort of environment, but I think Folgarida is exceptional.
The runs for the most part were relatively short to the nearest lift back up but you had the option of keeping going as one run went into the next, consequently you had the choice of short quick runs or just going all the way to the bottom and giving yourself an extended run so you could really let go if you wanted to. Really is a good venue.
You can hire skis near the ski lift or pre-book them on line its up to you, I guess if you can save a bit of money its worth pre-booking but also not difficult to get them when you arrive either. Depending on where you are staying there can be a little bit of a walk to the lift in ski gear but not much point in trying to use the ski bus, just not worth it for a relatively small distance.
Anyway that is about it, I thought for me Folgarida was one of the best places I have visited and I would love to go back there for another stint sometime soon before I get too old and have no problem recommending it to others on the understanding it is a small place.
Folgarida Weather