Skiing in The Pyrenees - European Travel Tips & Advice
A fun and affordable skiing holiday destination. Plenty of resorts in the Pyrenees in both France and Andorra. When there is good snow, its as good as anywhere in France or the Alps.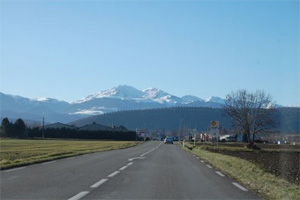 Skiing in the Pyrenees for great family skiing holidays
The skiing and snowboarding in the Pyrenees can be surprisingly good, everyone knows about the Alps and they are usually the first consideration when thinking about skiing in France but the Pyrenees certainly has something to offer including a relatively cheap skiing holiday when compared to the Alps.The resorts also tend to be a little smaller which makes them good for family ski holidays, less chance of loosing the kids or getting lost yourself.
Hopefully when you have finished reading this website then you will be better informed about the options you have for skiing holidays in France and in particular ski holidays in the Pyrenees.
There are a number of ski resorts in the Pyrenees and the ones I am going to discuss and provide information on are located at Ax Les Thermes, en route to Andorra, and the Monts d'Olmes resort close to Lavelanet. Both resorts are about an hour and a half south of Toulouse making them very convenient for access by air, rail and road.
Being close to Andorra you also get options for visiting the Casa de la Pasa and Soldeu resorts located there, these are higher up and a bit more consistent with respect to snow coverage but are a little further from Toulouse and would add approximately another 1/2 an hour to your journey. Not really a problem if you are staying close to the resort and have transport.
Monts d'Olmes Ski Resort, great for family skiing
Monts d'Olmes is the smaller of the 2 resorts and would be considered less challenging for an advanced skier or snowboarder with a relatively limited number of runs overall and with only 2 black runs both of which have to be accessed by drag lifts.
There are 21 runs in total and most are either red (8), blue(3) or green(8) and I personally would consider the resort as ideally suited to beginners and intermediates. It would also suit a family with a range of skills and is small enough so that everyone can stay in touch with relative ease.
There is only one main departure and return point with facilities for shops and cafes etc. and that is from the ski station, so most people find themselves returning here at some point either to meet with other members of their party or to access the cafes and restaurants for a short break or a bit of lunch.
Ski Lifts
A ski chair takes you from the station near to the top of the mountain and then a drag lift can be accessed to take you right to the top for the black runs which start at about 1950m, there is also an option to come down a red from here if the blacks are a bit too daunting once you get there.
The piste map gives you a good overview of the resort and the runs available and you can also get a snow report, weather and further details from this link, well worth checking the snow conditions before you depart because of the relatively low altitude of this resort.
Ski Shops
There are ski shops there and you can hire equipment at a reasonable rate on a 1/2 day basis if required, the half day at Monts d'Olmes is based around 1.00 p.m., so if you go for the morning or afternoon that is when you finish or start respectively. The lifts close in the evening around 5.00 p.m.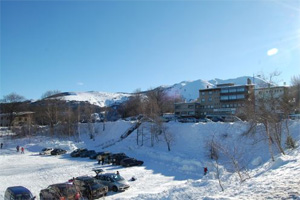 Getting There
A word of warning, the road up to Monts d'Olme is pretty steep and winding, there is also a sign near the station that says you should not go any further without snow chains, so make sure you are prepared. I have been there when on the way up the roads have been perfectly clear and drivable but then a snow storm came in and by the time I tried to leave there was a good 3 inches of snow on the road and driving became very difficult.
If you are not comfortable driving in these conditions you could maybe consider using the bus service that is available as part of the SKIRAIL service provided by SNCF out of Foix or alternatively there is a bus service that picks up in Mirepoix at 8.00 a.m. and then Lavelanet at 8.30 a.m. the number for enquiring about this service is 05 34 09 33 86
A quiet little ski resort
That's about it for Monts d'Olmes, it is small and can be a bit difficult to access but we have had some really nice days skiing there as long as you don't expect too much, it is what it is and if you are selective about when you go you can get some good snow and fairly quiet slopes with small or no queues, something for me that makes it well worth a visit.